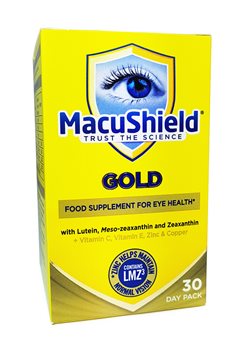 Macushield Gold 30 Day Pack
€23.50
All-in-One Capsule. Red & Gold Capsules have now been combined into one easy to swallow capsule.

MacuShield Gold combines the three macular carotenoids: Meso-Zeaxanthin, Lutein and Zeaxanthin. Scientific research shows that these three nutrients are found at the back of the eye, at the macula, where they form the macular pigment (yellow colour). Meso-Zeaxanthin is particularly concentrated at the centre of this pigment. The macula is a specialised part of the eye, responsible for our detailed, central vision.

Lutein and Zeaxanthin can be found in fruits and vegetables and Meso-Zeaxanthin is present in some species of fish and seafood. The macular pigments in Macushield are obtained from marigolds (Tagetus Erecta), specifically grown for this purpose.

MacuShield Gold combines the three macular carotenoids in a unique formula containing Meso-Zeaxanthin. In addition, the capsules also contain Zinc to help maintain normal vision Copper, Vitamin C and a natural form of Vitamin E, which contributes to the protection of cells from oxidative stress.

MacuShield Gold provides a fortified MacuShield formulation with added vitamins and minerals.